Poznáme to všetky. Ráno pred zrkadlom dokončujeme outfit. Pekné nenápadné náušnice, červený rúž na pery a náramky. Všetko ide v pohode, kým sa nedostaneme k náramku. O pár minút odchádza autobus a vy sa snažíte zapnúť si pripravené náramky. Skúšate to všetkými možnými spôsobmi, ruku si opierate o stenu, o brucho, mávate s ňou vo vzduchu a veľmi sústredene sa snažíte trafiť očko z retiazky. Ak máte šťastie náramok zapnete na prvé očko, a teda vám je veľký a behá po ruke hore a dole. Ak do piatich sekúnd neodídete z domu zmeškáte autobus. Náramok buď skončí v kabelke, aby vám ho kolegyňa zapla (a väčšinou na to zabudnete) alebo ho necháte na stolíku a skúsite to zajtra. V článku nájdete jednoduchý postup ako si náramok zapnete sama, a tak, aby ste stihli autobus a trafili ste posledné očko na náramku 🙂
Na e-shopoch nájdete množstvo pomôcok na zapínanie náramkov. Ja vám prezradím dva, ktoré sú takmer bezplatné.
1) Na prvý potrebujete iba kancelársku spinku. Malú alebo veľkú, to je jedno. Spinku z jednej strany otvoríte a chytíte ju do prstov, ako vidíte na obrázku. Potom už iba náramok zapnete a vyberiete spinku preč. Voilá za tri sekundy je náramok zapnutý a vy si môžete ešte dopiť kávu a bez stresu ísť na autobus.
2) Na druhý spôsob budete potrebovať lepiacu pásku. Postup je úplne rovnaký, len nemusíte nič držať v prstoch, len lepiacu pásku prilepíte na zápästie a náramok zapnete.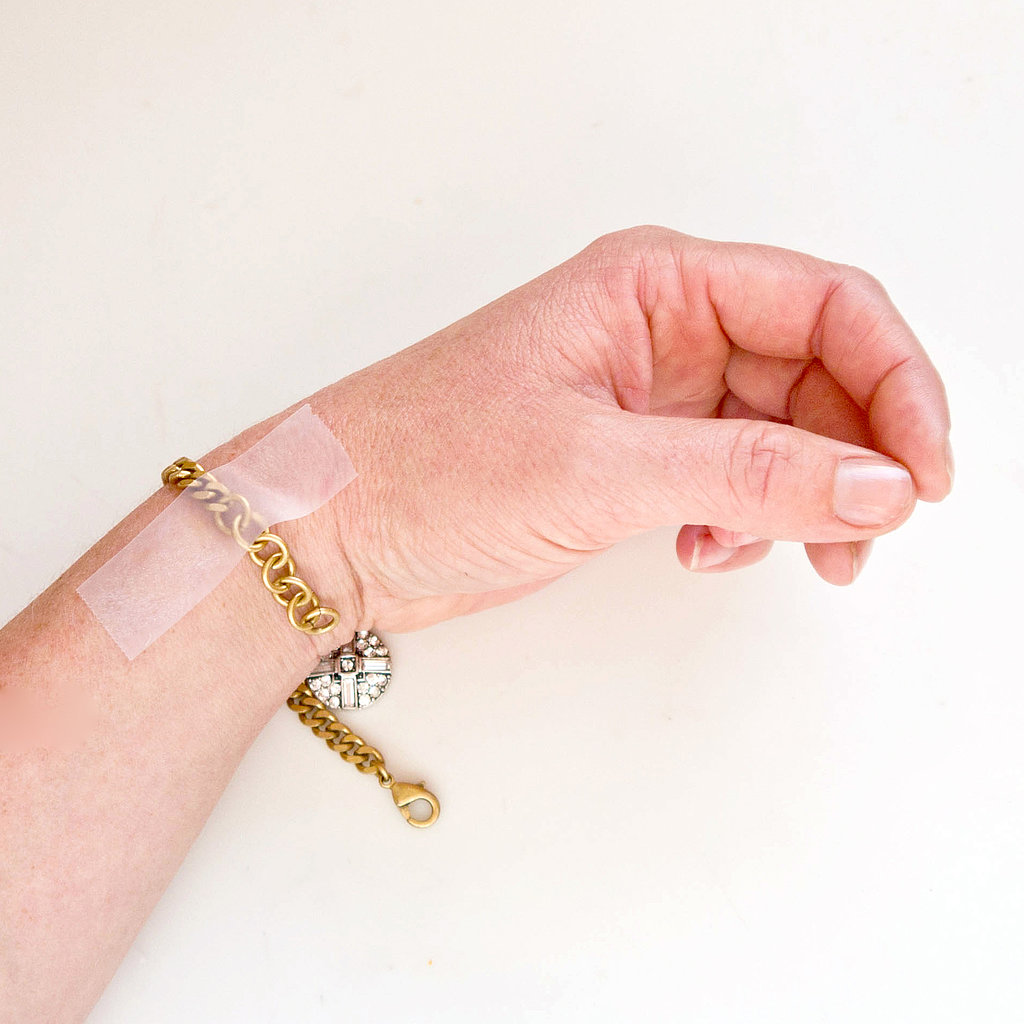 ako pomôcku môžete použiť aj
hačkovku (ale tú nemá každý doma)

ihlu a niť (ale to je trošku komplikované, ale funguje to tak, že si namiesto spinky chytíte niť)

štipec na držanie fotky (existujú také kocky na ktorých je palička a na konči štipec, tak tým štipcom môžete prichytiť náramok a kocku držať v ruke)

a na webe nájdete napr. tieto zbytočnosti (verím, že sa nikto neurazí) 🙂
source
Jednoduché čo poviete? Takto si ráno stihnete dopiť kávu aj si prečítať zopár e-mailov 🙂 A deň môže začať bez stresu a s úsmevom na perách a náramkom na ruke 🙂